Our Story: Friends of Home Ground
A great deal of the work that is accomplished at Home Ground is done by our wonderful volunteers—our unofficial "Friends of" group. At present, a group of about twelve to fifteen dedicated volunteers meets twice monthly to propagate plants. Our volunteers range in age from fifty to eighty, mostly women and retired, and most are experienced at gardening for California and dedicated to doing good by propagating plants. We've been meeting for about ten years now, and when our new Home Ground growing grounds are fully functional, we will be inviting more people to join in our efforts to educate gardeners and to support more California-sensitive garden practices.
Many of us first met at Marin Art and Garden Center, while I was the Garden Education Manager and Volunteer Coordinator there. MAGC volunteers worked together under my supervision in the gardens and in the little nursery we had set up, often side-by-side with high-school students who came after school to complete their community service hours. In the summer months, we had both high school and college students on internships helping us maintain the gardens, propagate plants, harvest seed, and make compost.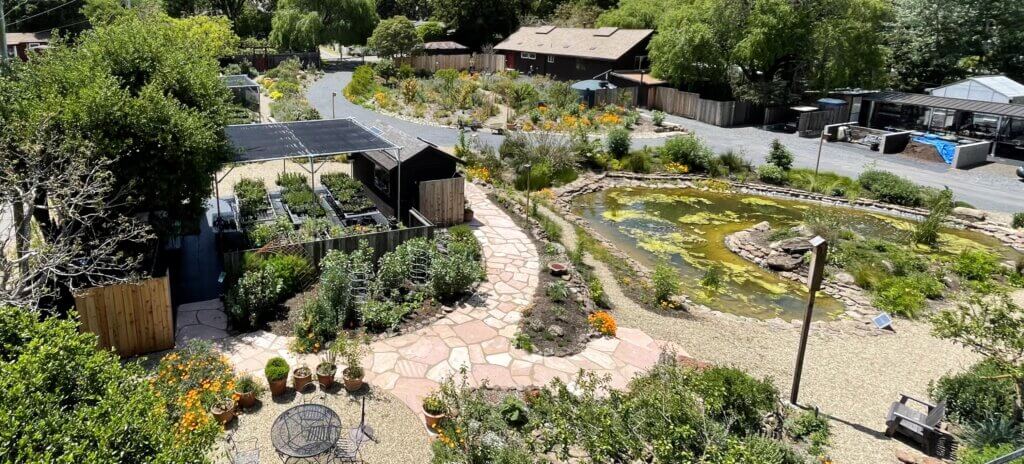 In the summer of 2009, due to a lack of funding after the 2008 stock market crash, the Center's Board of Directors made the decision to discontinue all the garden education programs. Although my position at the Center came to an end, the volunteers and I wanted to stick together, recreate some of these programs, and expand the nursery of native and habitat plants. I have loved and worked with this expanding group of people ever since!
Environmentally-sensitive gardening has been my passion for many years, and my dream has been to set up a green center where the Bay Area gardening community can see principles of gardening with a light and loving touch on the earth. I tried again in the summer of 2011, when I made an arrangement to use a small portion of a large family-owned traditional nursery in Novato.
Many new volunteers joined in to help with the plant propagation and we had space to grow thousands of plants each year. We held twice yearly plant sales at the nursery to benefit the Marin chapter of CNPS, which attracted hundreds of people! A committee associated with Marin CNPS designed and installed beautiful demonstration gardens showcasing native plants and alternatives to a typical lawn. The North Marin Water District donated all the irrigation parts, including a SMART irrigation timer, so that we could demonstrate three different styles of irrigation that make better use of water in garden settings. The Urban Farmer Store donated the time of an expert installer, and we made the irrigation installation a hands-on workshop. With a group from the Novato Live Well Network, we also built and managed a small and very productive organic vegetable garden.
At the plant sales, we offered all sorts of workshops and mini-lectures, from pruning natives to seed collecting to edible native plants. We also set up a home-composting demonstration site at the nursery and offered classes regularly on behalf of ZeroWaste Marin. Sadly, after three years we had to leave that space. Undaunted, we continued to grow plants with a small nursery set-up at my home while I searched for another site to fulfill my vision.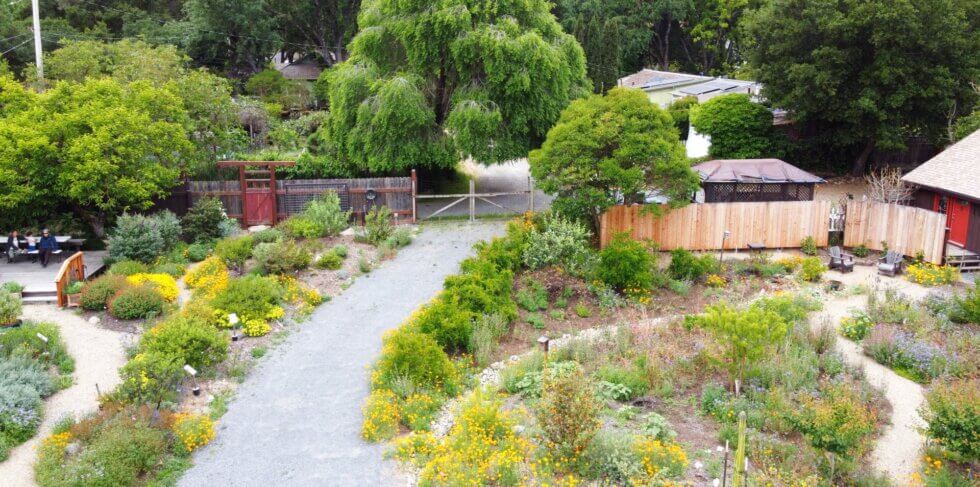 Meanwhile, our volunteers saw that we were onto a really good thing and felt we should have a name for what we were about. We shared lists of many possible names and it was Alice B. who came up with Home Ground Habitats. Home because that is where our hearts are; Ground because we all have tremendous respect for Mother Earth; and Habitats because that is our goal: life-nourishing habitats for people and all the other creatures we share our land with.
I remember when I first met each of the volunteers who are now a part of our Friends group. All are uncommonly good people, and actively giving back to our local community. Each one maintains a unique and vibrant home garden. About half of our volunteers are Marin CNPS members, and Cindy, Genevieve, Jean, and Sara are all Marin Master Gardeners who also volunteer their time for other projects in the county like helping at school gardens, working at plant sales, and offering advice for home gardeners.
Cindy is an artist with pressed flowers; Jean grows the most amazing squashes and gorgeous begonias; Genevieve has created an Asian style garden with California natives; and Sara still loves and nurtures her favorite tropical plants, which remind her of her years in Hawaii.
Ann and Frances had careers working for local non-profits that were concerned mostly with animals; now both Ann and Frances are enthusiastically creating their own habitat gardens with lots of help and advice from our group. Nancy B. is an expert quilter who often donates her beautiful quilts to children and adults who are fighting illness or disabilities. As a dedicated composter, Nancy also helped me with lots of the home-composting classes. Georgia is another quilter extraordinaire and recently allowed us to turn her new front yard into a lovely habitat garden. Colleen and her buddy, Darwin the spaniel, bring us reports of rare salt marsh harvest mice and eagles from her work as a wildlife biologist. Colleen is also eagerly getting a start on a new garden after moving from one end of the county to the other!
Nancy H. brings us news of amazing birds from Mexico and points south. She also manages the Zen Weeding project at Samuel P. Taylor State Park. She has been devotedly pulling invasive non-native weeds at the park for the last ten years—with help from partners like Marin CNPS, One Tam and SPAWN plus the support of many volunteers. The now day-lighted native plant communities are beginning to thrive again!
I met some of the other Home Ground volunteers while teaching various subjects. Suzi was in one of my classes and asked about my website. When I told her we didn't have one, she created one for us! She has a fabulous collection of manzanitas in her Pt. Reyes habitat garden and now designs gardens for others. Treva and Gulten also attended classes I taught, and wanted to get more involved. Treva is a master at delicately disentangling the root systems of seedlings, baking Southern desserts and training BIG dogs. Gulten is now a homesteader with her own little farm in Sonoma. She brings us fresh eggs from her much-loved flock of chickens. She is our "Turkish Delight," a wonderfully kind and generous person who is also a super healthy cook.
We are an amazingly productive group and we have a great time working, talking and laughing together. But I think it's also our tradition of tea and pot-luck treats after each propagation session that keeps the group together after all these years.
It is our intention to invite many more people to join our group once we are all set up at our new Home Ground! We'll be increasing the propagation sessions and will have gardens to tend. We'll be offering training sessions for all new volunteers, and plenty of rewards!
Our Story: Friends of Home Ground