Home Ground Habitats Nursery & Gardens, Novato, CA
Organic Plant Nursery and Educational Center in Novato
Home Ground Habitats is located in Indian Valley, the 'horse country' area of Marin; large old ranchettes, open spaces, and networks of horseback and hiking trails all close by. On our nearly one acre we have gardens that are vibrantly alive and beautiful. Butterflies, bees, and birds abound, bringing the natural world to a landscape that also provides sustenance for humans.
The demonstration gardens at Home Ground showcase a sustainable, organic approach to creating a truly California-friendly landscape using native plants and drought-tolerant Mediterranean species to increase the bio-diversity. Winding gravel pathways lead to hedgerows, wildflower meadows, a small fruit orchard, a vegetable garden, edible and medicinal California natives, pollinator plants, a 'Monarch Way Station, and numerous larval host plants for other common garden butterflies. The whole property is a 'pesticide free zone'. Open by appointment only.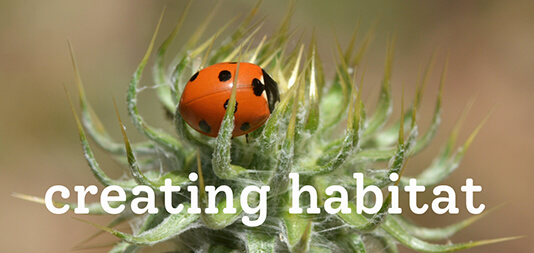 Creating Habitat
Why Habitat Matters
Plant Sourcing
Growing Plants from Seed
Home Ground Habitats recently hosted three local 5th grade Girl Scout troops where they learned about habitat restoration and the importance of pollinators from founder Charlotte Torgovitsky. Girl Scouts with Charlotte The girls took on a big project to refresh the...

A habitat-focused landscaping resource for the North Bay
photo: NPS

A thriving native plant growing ground
photo: Laura Lovett